Add to your watchlist
We'll let you know when this movie is showing again in London.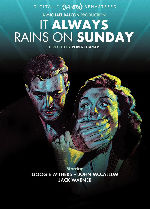 It Always Rains on Sunday
An escaped prisoner hides himself in his former lover's house
The film concerns events one Sunday (23 March 1947, according to the announcement blackboard at the local underground station} in Bethnal Green, a part of the East End of London that was suffering the effects of bombing and post-war deprivation. Rose Sandigate is a former barmaid married to a middle-aged man who has two teenage daughters from a previous marriage. She is a bossy, strident housewife, coping with the difficulties of rationing, near-slum housing and a drab, joyless environment. A former lover, Tommy Swann, jailed som...
Play trailer