Add to your watchlist
We'll let you know when this movie is showing again in London.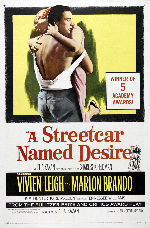 A Street Car Named Desire
Disturbed Blanche DuBois moves in with her sister and is tormented by her brutish brother-in-law while reality crumbles around her
In the classic play by Tennessee Williams, brought to the screen by Elia Kazan, faded Southern belle Blanche DuBois comes to visit her pregnant sister, Stella, in a seedy section of New Orleans. Stella's boorish husband, Stanley Kowalski, not only regards Blanche's aristocratic affectations as a royal pain but also thinks she's holding out on inheritance money that rightfully belongs to Stella. On the fringes of sanity, Blanche is trying to forget her checkered ...
Play trailer