Add to your watchlist
We'll let you know when this movie is showing again in London.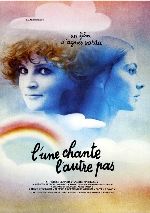 One Sings, the Other Doesn't (L'Une chante, l'autre pas)
The intertwined lives of two women in 1970s France, set against the progress of the women's movement in which Agnes Varda was involved. Pomme and Suzanne meet when Pomme helps Suzanne obtain an abortion after a third pregnancy which she cannot afford. They lose contact but meet again ten years later. Pomme has become an unconventional singer, Suzanne a serious community worker - despite the contrast they remain friends and share in the various dramas of each others' lives, in the process affirming their different female identities.