Add to your watchlist
We'll let you know when this movie is showing again in London.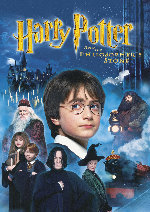 Harry Potter And The Philosopher's Stone
Orphan Harry Potter endures a miserable life with his mean and angry aunt and uncle. Forced to live under the stairs and eat their left overs, Harry dreams of a better place. Thankfully, happier times are just around the corner when a strange letter leads him to Hogwarts School of Witchcraft and Wizardry where he learns all about spells and magic, and begins his quest to avenge his parents deaths at the hands of the nasty Voldemort.
Play trailer