Add to your watchlist
We'll let you know when this movie is showing again in London.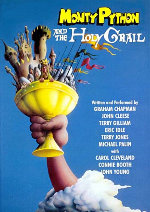 Monty Python And The Holy Grail
King Arthur heads for Camelot with his loyal squire Patsy and the Knights Of The Round Table including Sir Bedevere the Wise, Sir Lancelot the Brave, Sir Galahad the Pure and Sir Robin the Not-Quite-So-Brave-As-Sir-Lancelot. En route, they battle the Black Knight, who loses his arms and legs but still refuses to surrender. Arriving at Camelot, Arthur and his troop are ordered by God to locate the Holy Grail and the valiant adventurers travel far and wide in search of the precious relic.
Play trailer