Add to your watchlist
We'll let you know when this movie is showing again in London.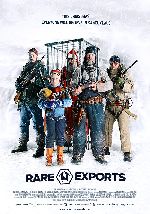 Rare Exports: A Christmas Tale
Pietari lives in the Finnish Arctic with his widowed father, Rauno. They eke out a meagre living off the snow-laden land by farming and slaughtering reindeer. The peace is shattered by a science expedition led by Riley, which drills into the ice of the Korvatunturi Mountains and unearths the real Father Christmas. This Santa isn't the benevolent toymaker of modern lore: he's a snarling child snatcher of naughty boys and girls with an army of evil elves to do his bidding.
Play trailer