Add to your watchlist
Keep track of this movie and find London showtimes faster.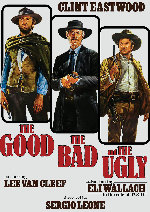 The Good, The Bad and The Ugly
During the Civil War, two men, Blondie and Tuco, form an uncomfortable alliance while looking for treasure. They must also outwit Angel Eyes, an outlaw who wants to plunder the riches for himself.
Play trailer