Add to your watchlist
We'll let you know when this movie is showing again in London.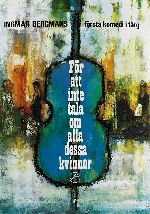 All These Women (For Att Inte Tala Om Alla Dessa Kvinnor)
The pretentious critic Cornelius is writing a biography on a famous cellist and to do some research he goes to stay in his house for a few days. He doesn't manage to get an interview with the man, but by talking to all the women who live with him, he comes to learn a lot about the musician's private life none the less. Cornelius then decides to use this information and tries to blackmail the cellist into performing a composition that he, Cornelius, has written.