Add to your watchlist
We'll let you know when this movie is showing again in London.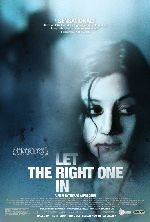 Let The Right One In (Lat Den Ratte Komma In)
Twelve-year-old loner Oskar lives on an '80s housing estate in Stockholm with his divorced mother and is bullied mercilessly at school by Conny. Escaping for fresh air in the courtyard one night, Oskar meets the strange yet alluring Eli, a little girl of a similar age who seems just as lonely and disenchanted with the world. She lives with her guardian Hakan, who often goes out late, leaving the girl alone in their apartment. Oskar senses there is something different about his new friend and puts his finger on it when he asks her tentatively, "Are you a vampire?" She seems unsurprised, respond...
Play trailer