Add to your watchlist
We'll let you know when this movie is showing again in London.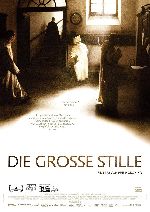 Into Great Silence (Die Grosse Stille)
Fascinating, two-and-a-half hour documentary which spends six months inside the Great Charterhouse of the Grand Prior of the Carthusian Order, a brotherhood located high up in the French Alps. Abiding by rules laid down by the Order - no interviews, no voiceover and no music other than the monk's chanting - the film observes a microcosm of society far removed from the rest of civilisation, existing in total harmony.
Play trailer