Add to your watchlist
We'll let you know when this movie is showing again in London.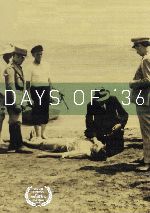 Days Of 36 (I Meres Tou 36)
It is 1936 in Greece, shortly before the Metaxas' dictatorship. A former drug trafficker and police informer, Sofianos, is in prison because of the assassination of a trade unionist during a rally. A conservative politician, Kriezis, with whom Sofianos had a homosexual relationship, visits him in prison. Using a smuggled gun Sofianos manages to take him hostage in his cell and blackmails the police in order to be released. The government is at a dead end and the country finds itself in a crisis. If they free Kriezis, they will lose the support of the democrats, if they don't, they will lose th...