Add to your watchlist
We'll let you know when this movie is showing again in London.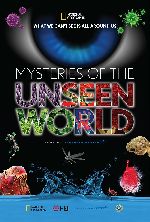 Mysteries of the Unseen World
A documentary exploring the microscopic, essential aspects of the natural world
In the National Geographic tradition of powerful natural-history images and storytelling, this film reveals once-invisible dimensions of nature that are filled with beauty and wonder-and hold secrets crucial to our survival. It shines a fascinating spotlight on objects and events that escape the naked eye every minute of every day. Visually stunning and rooted in cutting-edge research, the film blends high-speed and time-lapse photography, electron microscopy and nanotechnology.
Play trailer