Add to your watchlist
Keep track of this movie and find London showtimes faster.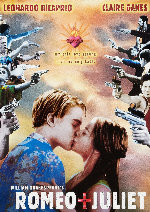 William Shakespeare's Romeo + Juliet
Romeo and Juliet are the youngest members of their clans, the Montagues and Capulets, who have been at war with one another for many years. Bloodshed, bitterness and betrayal litters the two clans' histories, both sides too proud and too consumed with anger to broker a lasting peace. In these tense times, Romeo and Juliet fall in love and attempt to continue their illicit liaisons, despite the heartache and grief it would cause their parents.
Play trailer