Add to your watchlist
Keep track of this movie and find London showtimes faster.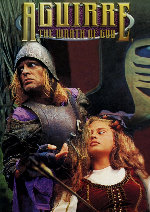 Aguirre, Wrath Of God (Aguirre, Der Zorn Gottes)
Gonzalo Pizarro enlists a troop of conquistadors to travel deep into the Peruvian jungle, and to discover the whereabouts of the fabled city of El Dorado. Don Pedro de Ursua leads the mission, aided by Don Lope de Aguirre, but the responsibility weighs heavily upon him and Aguirre gleefully assumes command.
Play trailer