Add to your watchlist
We'll let you know when this movie is showing again in London.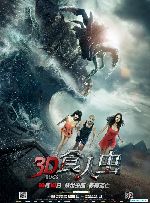 Bugs 3D (Shi Ren Chong 3D)
Monstrous bugs break free of a laboratory and begin to attack humans
In the near future, due to huge demand for protein, synthetic protein is rapidly developed around the world. Jams, a fanatic geneticist, has managed to raise super bugs that can provide high-quality protein at low-cost. But the reproduction of the bugs goes out of control because of men's excessive greed. They break out of the tubes, devour scientists, and turn into giant monsters. Numerous monster bugs hankering after men's flesh and blood swarm into the sea, and wait to rage a holocaust.
Play trailer