Add to your watchlist
Keep track of this movie and find London showtimes faster.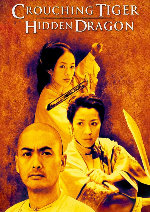 Crouching Tiger, Hidden Dragon
Set at the dawning of the 19th century in the final years of the venerable Qing dynasty, Crouching Tiger, Hidden Dragon centres on the undeclared love of legendary fighter Li Ku Bai and the beautiful Yu Shu Lien, brought together when Bai's Green Destiny sword is stolen by his sworn enemy Jade Fox. Laying a trap for their wily adversary, Bai and Lien cross paths with aristocrat Jen and her governess, whose friendship conceals a deadly secret.
Play trailer