Add to your watchlist
We'll let you know when this movie is showing again in London.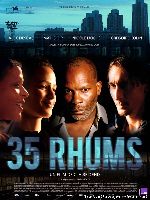 35 Shots of Rum (35 rhums)
Set among a small circle of friends and neighbors in a Parisian suburb, "35 Shots of Rum" is a warm, funny and enchanting film from the great French filmmaker Claire Denis. Lionel, a metro conductor, lives with his beautiful university student daughter Josephine in a bustling apartment complex. They have been sharing the same space for many years and have grown accustomed to one another's company. Lately, Josephine has been spending time with Noé, a handsome young neighbor, while Lionel is finding himself drawn into a romance with close friend Gabrielle. As their lives are pulled in differen...
Play trailer