Add to your watchlist
We'll let you know when this movie is showing again in London.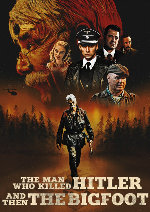 The Man Who Killed Hitler And Then The Bigfoot
Decades after ending World War II by assassinating Adolf Hitler in an undercover operation so covert it never existed, unsung American hero Calvin Barr is called upon by the secret services to save the day again. Now he must hunt down the fabled Bigfoot, carrier of a deadly plague that could destroy mankind, hidden deep in the Canadian wilderness. Last time he left behind the love of his life. This time his legend, as the ageing veteran confronts the mythological beast as well as his own mythic past.
Play trailer