Add to your watchlist
We'll let you know when this movie is showing again in London.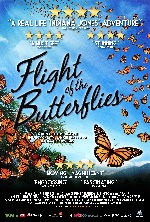 Flight of the Butterflies
A film of hundreds of millions of monarchs in their remote overwintering sanctuaries and along their migratory routes from Canada and across the U.S. to Mexico
The iconic monarch butterfly is a true marvel of nature. Weighing less than a penny, it makes one of the longest migrations on Earth across a continent, with pinpoint navigational accuracy, to a secluded place it has never been. Follow the monarchs' perilous and extraordinary journey and join hundreds of millions of real butterflies in the remote mountain peaks of Mexico. For the first time ever, look inside a chrysalis, thanks to ad...
Play trailer