Add to your watchlist
We'll let you know when this movie is showing again in London.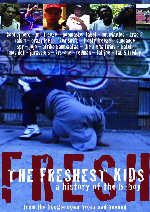 The Freshest Kids: A History of the B-Boy
From the Boogie Down Bronx and beyond, the history of the B-Boy
In the early '70s, the rough-and-tumble South Bronx gave birth to several distinct but related phenomena which would in time be heard around the world. A disc jockey named Kool Herc who spun records at block parties began digging up obscure records with great rhythm breaks, and he began cutting back and forth between two copies of the same record, allowing the breaks to go on as long as he pleased. Other Bronx DJ's, such as Grandmaster Flash, began combining "cross-mixing" with "scratching," in which the sound of the record bei...
Play trailer