Add to your watchlist
We'll let you know when this movie is showing again in London.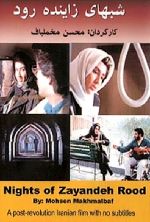 The Nights of Zayandeh-Rood (Shabhaye Zayendeh-Rood)
The film is about an anthropologist and his daughter, and it happens during three different periods: Before, during and after the revolution.
The daughter works in accidents and emergency department of a hospital, where they bring in different suicidal patients, whom have tried to take their own lives by taking drugs. The ward she is working, is never empty of suicidal patients. The reason behind each suicide attempt is different form one person to another, especially before and after the revolution. Looking for a reason to be alive, one of suicide patient falls in love with the anthropolog...
Play trailer