Add to your watchlist
Keep track of this movie and find London showtimes faster.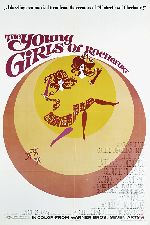 The Young Girls of Rochefort (Les Demoiselles de Rochefort)
Romance begins busting out all over in Rochefort. A fair is being organized, giving the town an air of excitement and effervescence. Twin sisters Delphine, a dance teacher, and Solange, a pianist and a composer, dream of making it big in the world of music. The sisters, like many in Rochefort, including a dashing American pianist, are looking for love, without realizing that their ideal partners are right before their eyes.
Play trailer