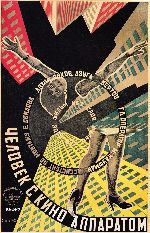 The Man with a Movie Camera (Chelovek s kino-apparatom)
Add to your watchlist
We'll let you know when this movie is showing again in London.
Groundbreaking 1920s Soviet film portraying a day in a city
Soviet director Dziga Vertov's experimental film grew out of his belief, shared by his editor, Elizaveta Svilova (who was also his wife), and his cinematographer, Mikhail Kaufman (also his brother), that the true goal of cinema should be to present life as it is lived. To that end, the filmmakers offer a day-in-the-life portrait of a city from dawn until dusk, though they actually shot their footage in several cities, including Moscow, Kiev, and Odessa. After an opening statement, there are no words in the film (neither voice-over ...
Play trailer