Add to your watchlist
We'll let you know when this movie is showing again in London.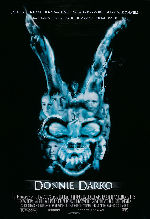 Donnie Darko: Director's Cut
The appearance of a giant rabbit called Frank is just the start of teenager Donnie's trouble
Some may think that Donnie Darko is a typical maladjusted teenager. Actually, Donnie is borderline delusional, beset by visions of a monstrous rabbit which is trying to keep him under its sinister influence. Prompted by this apparition, Donnie commits antisocial acts while he is undergoing psychotherapy, surviving the vagaries of high-school life and romance, and fortuitously escaping a bizarre death from a falling jet engine. Donnie battles his demons, literally and figuratively, in a series of int...
Play trailer