Add to your watchlist
We'll let you know when this movie is showing again in London.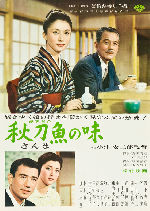 An Autumn Afternoon (Sanma no aji)
Director Yasujiro Ozu's final film, and a rare outing in color for him, continues his quietly observed explorations of family dynamics in postwar Japan. Frequent Ozu star Chishu Ryu plays Shuhei Hirayama, an aging widower whose three children each depend upon him in varying degrees. The eldest, Kazuo, who is married, is a spendthrift who purchases a new set of golf clubs, then hits up his indulgent dad for a loan to buy a refrigerator. The middle child, daughter Michiko, is a 24-year-old still living at home and happy to be the domestic fulcrum between her father and her younger brother, Koich...
Play trailer