Add to your watchlist
We'll let you know when this movie is showing again in London.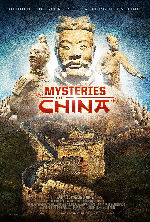 Mysteries of China IMAX 3D
Mysteries of China captures one of the great archaeological events in modern times, telling the story of ancient China, the First Emperor, and the literal foundation of the China we know today. Starting with modern China and springing back as we seek the birth of this mighty nation, we talk of an ancient time when a fierce warrior brought together a warring nation, and how an accidental discovery changed everything we know about China's past. From modern China, to ancient China, and back again, the film is a visual adventure, using beautiful aerial photography and cutting-edge time-lapse tec...
Play trailer