Add to your watchlist
We'll let you know when this movie is showing again in London.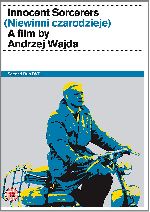 Innocent Sorcerers (Niewinni Czarodzieje)
Award-winning Polish director Andrzej Wajda guides this effective tale about a young doctor and the woman he finds when he did not know he was looking. The doctor is attractive enough to have women after him all of the time, which may seem like a great problem for most men but is unsettling to him. Just when he has had it with women coming on to him, he meets a lively young femme who at first seems no different than all the rest. She manages to get into his room where the two of them spend their time talking -- a novelty, without a doubt. But then the doctor has to leave to meet some friends, ...
Play trailer