Add to your watchlist
We'll let you know when this movie is showing again in London.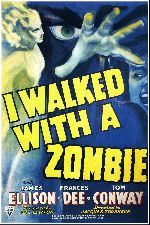 I Walked With a Zombie (1943)
RKO producer Val Lewton seemed to thrive upon taking the most lurid film titles and coming up with pocket-edition works of art. Saddled with the studio-dictated title I Walked With a Zombie, Lewton, together with scripters Curt Siodmak and Ardel Wray, concocted a West Indies variation on Jane Eyre. Trained nurse (Frances Dee) travels to the tropics to care for Christine Gordon, the wife of seemingly abusive Tom Conway. At first, Dee merely believes her patient to be comatose. But as the drums throb and the natives behave restlessly, Dee tries to bring her patient back to life by jungle magic. ...
Play trailer