Add to your watchlist
We'll let you know when this movie is showing again in London.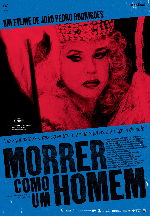 To Die Like A Man (Morrer Como Um Homem)
The story of a homosexual drag-queen at the end of his career, who tries to erase all traces of her original male identity. The transformation is nevertheless incomplete and she will die like a man, as states the name on her headstone. The cast includes several Portuguese real-life drag-queens, with no previous, or little, acting experience. The story has been allegedly inspired by the real story of Joaquim Centúrio de Almeida (artistic name: Ruth Bryden), a Portuguese drag-queen, and has motivated a lawsuit on account of plagiarism of a biographical book on the life of Almeida by the late au...
Play trailer