Add to your watchlist
We'll let you know when this movie is showing again in London.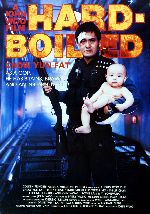 Hard Boiled (Lat sau san taam)
Yun-Fat portrays a maverick, clarinet-playing cop nicknamed "Tequila" whose partner is killed in the dizzying chaos of a restaurant gunfight with a small army of gangsters. It is soon revealed that one of the mob's high-ranking assassins is Tony (Tony Leung), an undercover cop who, despite his badge, is dangerously close to the edge. Tequila and Tony must team up in a tense partnership, and their common pursuit of a vicious crime lord results in a brilliantly elaborate climax in a hospital, where the heroes must rescue newborn babies from the maternity ward while fighting off dozens of mob sol...
Play trailer