Add to your watchlist
We'll let you know when this movie is showing again in London.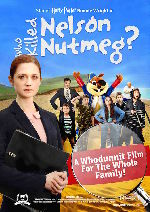 Who Killed Nelson Nutmeg?
Four kids, BILLIE, THE COLONEL, WOODY and SHIV, go on their annual summer holiday to Nelson's Retreat, a family camp situated on Dorset's Jurassic coast. But Billie and the gang don't really fit in with the other kids, and the camp's targeted for younger children so it's not really their 'thing' anymore. The only highlight is the camp's squirrel mascot, the hyperactive and unpredictable NELSON NUTMEG (basically a guy in a squirrel costume). However, when Billie witnesses Nelson Nutmeg getting pushed off the cliff by a mysterious assailant, she rallies The Colonel, Woody and Shi...
Play trailer