Add to your watchlist
We'll let you know when this movie is showing again in London.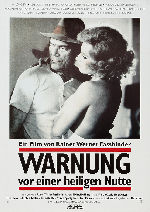 Beware of a Holy Whore (Warnung vor einer heiligen Nutte)
This film by wunderkind Rainer Werner Fassbinder, his 10th, is one of the rare films about filmmaking which was said by the critics to have succeeded both technically and as drama. In it, a German film crew sits in their Italian hotel, waiting for the arrival of their director (Lou Castel), their star (Eddie Constantine) and more money. While they wait, argue, complain, and enter and leave romances, the delusions of a whole community of filmmakers are humorously unveiled. This film is said to be a scathing and satirical self-criticism by Fassbinder of his own methods and of his colleagues and ...
Play trailer