Add to your watchlist
We'll let you know when this movie is showing again in London.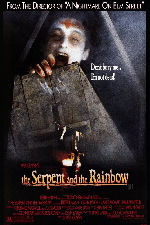 The Serpent and the Rainbow
Horror maven Wes Craven attempted a slight change of pace from his usual slasher movie milieu with this chiller loosely based on a true story. Bill Pullman stars as Dennis Alan, a Harvard researcher sent to Haiti by a pharmaceutical company to investigate the zombie legend and any possible connection it might have to a rumored drug that could be used as a new breed of powerful anaesthetic. Once on the Caribbean isle, Alan is aided by a good voodoo priest or houngan (Paul Winfield) and his daughter (Cathy Tyson), who runs a local clinic. Alan's search also pits him against an evil houngan, Darg...
Play trailer