Add to your watchlist
We'll let you know when this movie is showing again in London.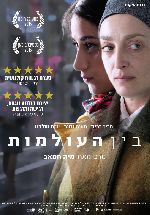 Between Worlds (Bein Haolamot) (2016)
Bina (46), a religious woman from Jerusalem, arrives panic-stricken at the hospital after her son Oliel (25) was severely injured in a stabbing attack. This is the first time she sees him since he became secular and lost contact with his family. Her husband, Meir (50), comes later only after their daughter Ester's (28) insists he does. At the hospital, Bina meets Amal (24). While Meir searches for answers to revive Oliel, the two despondent women bond with one another. However, Amal hides a secret from Bina and Meir. While waiting for Oliel's revival, they will learn about truth, faith, unders...
Play trailer