Add to your watchlist
We'll let you know when this movie is showing again in London.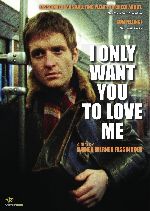 I Only Want You to Love Me
A man is interviewed by a sympathetic woman. His tale unfolds, of hard work that never pleases his parents, of a father who denigrates his efforts, of an indifferent mother. He builds them a house. Instead of offering their flat to him and his bride, they give the flat up, so he goes to Munich to work in construction, bringing his wife who is soon pregnant. They buy things on credit; he works overtime. He shows up with flowers and expensive gifts. When construction slows and he works less overtime, he cannot adjust his spending habits: he needs to be loved. Pressures mount. When he snaps, and ...