Add to your watchlist
We'll let you know when this movie is showing again in London.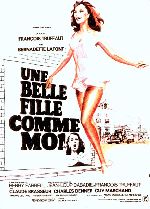 A Gorgeous Bird Like Me (Une belle fille comme moi)
Bernadette Lafont is as alluring as all get out in Such a Gorgeous Kid Like Me (original title: Une Belle Fille Comme Moi). She plays a crafty murderess who uses her not inconsiderable charms to disarm her victims and trap unwitting males into helping her. Claude Brasseur plays the ingenuous criminology student to whom Lafont relates her steamy past. In the end, he is as hooked as any of the other men in the girl's life. Based on the novel by Henry Farrell (and more than a little inspired by such Hollywood black widow films as The File on Thelma Jordon), Such a Gorgeous Kid Like Me is one of t...