Add to your watchlist
We'll let you know when this movie is showing again in London.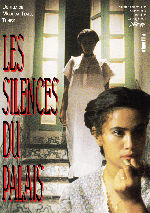 The Silences of the the Palace (Les Silences du Palias)
The pain of servitude, the power of music, and the need for women to stick together provide the underlying themes for this Tunisian-French drama set in the ruling king's compound the night before Tunisia declared its independence. The story reflects the reminiscence of Alia, a 25 year old woman who was raised in the royal palace with her mother, Khedija, a lifelong servant there. One of Khedija's more odious tasks was to have sex with her masters. Alia has no idea who her father was. In the present Alia has an appointment for yet another abortion as requested by Lofti her boyfriend. When she h...
Play trailer