Add to your watchlist
We'll let you know when this movie is showing again in London.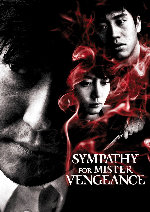 Sympathy For Mr Vengeance
A young deaf-mute man named Ryu desperately tries to raise enough money to finance a kidney transplant for his gravely ill sister. Frustratingly, he is the wrong blood type to donate one of his own organs, so he is compelled to try less conventional - and illegal - means to ensure she survives. As time begins to run out, Ryu and his political activist girlfriend decide to kidnap the daughter of wealthy businessman Dong-Jin and hold her to ransom. Unfortunately, the plan goes tragically awry.
Play trailer