Add to your watchlist
Keep track of this movie and find London showtimes faster.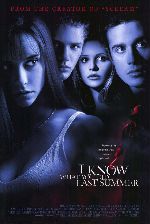 I Know What You Did Last Summer
During the annual July 4th festivities in a North Carolina fishing town, Helen wins a local beauty contest and departs with her boyfriend Barry and pals Julie and Ray. On their way back home, Ray hits a fisherman with her car. The teens panic, drop the body in the water, and abandon the scene. Many months later when Julie returns from college, she gets an anonymous note: I know what you did last summer.
Play trailer