Add to your watchlist
We'll let you know when this movie is showing again in London.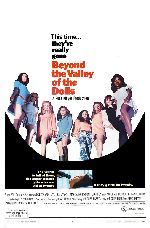 Beyond the Valley of the Dolls
After nearly a decade as one of America's most successful independent filmmakers, legendary sexploitation auteur Russ Meyer first reached out for the brass ring of major studio success with this frantic cult favorite, once described by Meyer and screenwriter Roger Ebert as the first exploitation-horror-camp-musical. Kelly McNamara (Dolly Read), Casey Anderson (Cynthia Myers), and Petronella Danforth (Marcia McBroom) are the three members of an all-girl rock band called the Kelly Affair who pull up stakes for Hollywood in search of stardom; they're accompanied by their manager, Harris Allsworth...
Play trailer