Add to your watchlist
We'll let you know when this movie is showing again in London.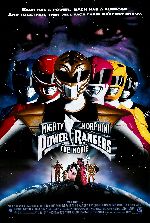 Mighty Morphin Power Rangers: The Movie
The popular children's television show comes to the screen in this sci-fi adventure about a group of teenage superheroes battling an evil leader bent on world domination. The film's six heroes lead double existences as normal young teens who, when needed, don color-coded costumes to become the Power Rangers. Under the guidance of the valiant Zordon (Nicholas Bell), the Rangers fight crime with kung-fu skills and specialized attack vehicles. This time, the Rangers are battling Ivan Ooze (Paul Freeman), a millennia-old villain who hopes to take over the world with an army of phlegm creatures. Th...
Play trailer