Add to your watchlist
Keep track of this movie and find London showtimes faster.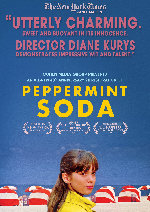 Peppermint Soda (Diabolo Menthe)
This gentle, closely observed autobiographical tale, a first film by director Diane Kurys, got a very favorable critical reception at the time of its release. It concerns the experiences of Anne and Frederique , the 13- and 15-year-old daughters of a separated Jewish couple. They are attending a grim, rule-crazy school in the early 1960s.
Play trailer