Add to your watchlist
We'll let you know when this movie is showing again in London.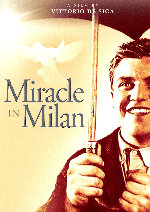 Miracle in Milan (Miracolo a Milano)
Once upon a time, an old woman discovered a young child in her cabbage patch. She cared for him until her death, at which time the boy was placed into an orphanage. When the child is released from the orphanage he inspires shantytown squatters to improve their huts and enjoy the world. But, as they begin to rebuild, the squatters strike oil. The landowner evicts them, wanting the oil for himself. But, the old woman drops down from heaven to give Toto a magical dove -- which repels the police, and grants them whatever wish they want.
Play trailer