Add to your watchlist
We'll let you know when this movie is showing again in London.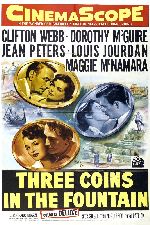 Three Coins in the Fountain
Adapted by playwright John Patrick from a novel by famed globetrotter/filmmaker John H. Secondari, Three Coins in the Fountain offers the splendors of Rome in Technicolor, CinemaScope and Stereophonic Sounds. For all its lovely picture-postcard images, the film is at base a reworking of 20th Century-Fox' favorite plotline: three pretty girls on the prowl for husbands. The three lovelies, who toss their coins in the Trevi fountain and wish for romance, include Dorothy McGuire, Jean Peters and Maggie McNamara. Before the film is over, secretary McGuire has wooed her boss, Clifton Webb, Peters ha...
Play trailer