Add to your watchlist
We'll let you know when this movie is showing again in London.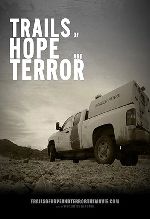 Trails of Hope and Terror the Movie
Why do immigrants from Latin America cross borders? Looking for opportunities or free social services? Centuries of territorial conquest, gunboat diplomacy, military invasion and trade deals have been extracting cheap labor and resources to the breaking point. When one nation builds roads into another nation to do this, why are we surprised when the immigrants take those same roads to follow everything that has been stolen from them?