Add to your watchlist
We'll let you know when this movie is showing again in London.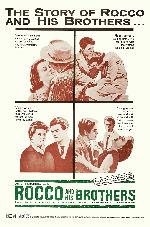 Rocco and His Brothers (Rocco e i suoi fratelli)
Luchino Visconti's operatic masterpiece tells the story of the Parondis, a poor family from a village in southern Italy who come to Milan seeking a better life. Following the death of her husband, proud Rosaria (Katina Paxinou) picks up stakes and moves to the city with four of her sons: Simone (Renato Salvatori), Rocco (Alain Delon), Ciro (Max Cartier), and Luca (Rocco Vidolazzi). Awaiting them in Milan is her oldest son, Vincenzo (Spiros Focas), who himself is preoccupied with his impending nuptials to the beautiful Ginetta (Claudia Cardinale). Divided into chapters focused loosely on each b...
Play trailer