Add to your watchlist
We'll let you know when this movie is showing again in London.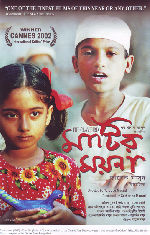 The Clay Bird (Matir moina)
The Clay Bird takes place in the late '60s, in East Pakistan, on the eve of a violent revolution that created the independent state of Bangladesh. Anu (Nurul Islam Bablu) lives with his fundamentalist Muslim father, Kazi (Jayanto Chattopadhyay), who practices homeopathic medicine. Anu's mother, Ayesha (Rokeya Prachy) was once a spirited girl, but she's become sullen in subservience to her increasingly taciturn husband. Anu also has a sweet but sickly little sister, Asma. Milon, Kazi's younger brother, is involved in local politics, protesting against Pakistan's military rule. He also takes Anu...
Play trailer