Add to your watchlist
We'll let you know when this movie is showing again in London.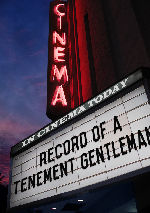 The Record of a Tenement Gentleman
In post-war Japan, a man brings a lost boy to his tenement. No one wants to take the child for even one night; finally, a sour widow, Tané, does. The next day, complaining, she takes the boy to his neighborhood and finds his father has gone to Tokyo; it seems the boy has been abandoned. Tané wants to leave him there, but he follows her home. The next morning he disappears fearing a scolding after wetting the bed. Tané realizes she likes having him there, searches for him, and keeps him when he's found that night. Within days, she considers him her son.
Play trailer