Add to your watchlist
We'll let you know when this movie is showing again in London.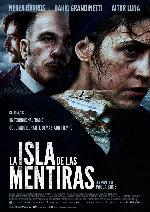 The Island of Lies (La Isla de las Mentiras)
In a winter morning in 1921, amid the thick fog of the Galician coastline, a boat with 260 emigrants bound for Buenos Aires sinks off the coast of Sálvora, a very small island 3km off the mainland. On that night the men of the island had all been to the mainland to celebrate Christmas and three courageous women use a small boat and row by ear to try to save as many people as they can. An Argentine journalist takes interest in covering the case and starts to investigate the many fatal coincidences that happened on the night of the shipwreck.
Play trailer