Add to your watchlist
We'll let you know when this movie is showing again in London.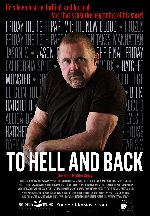 To Hell And Back: The Kane Hodder Story
Meet the man behind the Jason Voorhees and Victor Crowley masks. Kane Hodder is cinema's most prolific killer and this gut wrenching but inspiring documentary tells you why. It's the harrowing story of the stuntman overcoming a dehumanizing childhood filled with torment and bullying. After surviving a near-death burn accident he rose up through Hollywood's horror ranks to become Jason in the FRIDAY THE 13th series making countless movie goers forever terrified of hockey masks and summer camp. After decades of watching Kane Hodder on screen here's the uniquely human story about one of t...
Play trailer